Cost of living: Support to help you and your family stay warm and well
More than 9 in 10 adults in the UK say their cost of living increased in the last year.
Food prices are 18% higher than a year ago, and energy prices have doubled simultaneously.
We wanted to share some information and resources with patients needing help with the cost of living.
Sources of Support
The Healthier Together website, run by the NHS in the North East and North Cumbria, has a new section for supporting people and their families.
You can find many sources of support, from finding warm spaces and food support to help with benefits, housing, and other financial assistance.
Local authorities have set out support from all over the region.
It is easy to find what Newcastle City Council offers people here or for friends or relatives to see what is available elsewhere in the region.
Related Health Conditions
The information has been put together as part of the NHS's work to tackle respiratory illnesses and their link with poverty. This is when common issues with breathing, like asthma or bronchiolitis, are made worse by cold or damp conditions if it is challenging to keep their homes warm.
Helpful information on respiratory conditions, common childhood illnesses and looking after newborns can be found on the Healthier Together website.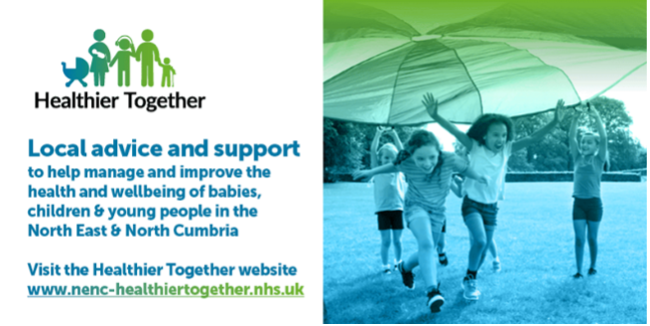 Healthier Together Website and App
Healthier Together is an NHS website and smartphone app designed for parents and caregivers in the North East and North Cumbria.
The aim is to improve the health of babies, children and young people with advice, helpful resources, and information directly from healthcare professionals. Visit the site, download the app, or read our previous news article to learn more.